In the past few years, Corgis have become an obsession. They're even ranked pretty high in the American Kennel Club's list of the most popular dog breeds. 
Perhaps it's due to the fact that corgi is Queen Elizabeth II's favorite dog breed, or simply because they're unbearably cute and have huge personalities. Who's to say? 
All we know is that, with the rise of their popularity, the demand for new corgi puppies is higher than ever before. Having said that, a lot of people are entering this field of 'business' nowadays.
But what does it take to become a corgi breeder? What are the basic things you need to know? 
Not to mention the primary concern so many new corgi breeders have – how much money and time do I need to invest?
In this article, we've gathered all of the vital information about corgi breeding. Wondering how to be a corgi breeder? Then continue scrolling and find out!
Becoming A Corgi Breeder
It's safe to say breeding a litter is an actual art. If you want to be a successful breeder, you need to be very well educated and informed and be open to grow and learn from other breeders continually.
Breeding requires total devotion; it takes time, money and requires patience and hard work.
There are many things to do before a breeder even sells a puppy, which is actually one of the easiest parts.
But one of the main things a breeder should strive for is to improve the breed and not just it's numbers. The key is to learn how to recognize a dog's weaknesses or faults and figure out how to correct them.
Intelligent and responsible breeding includes correcting a fault one dog might have in just one breeding. The person who wants to become a breeder must constantly learn, watch, study and read about this topic.
If you want to become a dog breeder, you must devote your time to reading about the breeds you prefer (in this case, a corgi). 
Learn their background, health issues they're prone to, and how to raise and train them accordingly. In addition, it wouldn't hurt to attend some of the dog events and speak to other breeders. 
One thing is for sure – there's no such thing as a perfect dog. As American Kennel Club says, it's essential to strive for perfection all along while sticking to the standard.
Here are the things you need to go through in other to become a successful, responsible, and caring dog breeder:
Learn all about your dog breed
Find a good mentor
Your kennel should be registered with the state and the American Kennel Club
Find healthy dogs from quality breeding stock
Stick to the standard 
The veterinarians should be on your speed dial; always consult with them
Seek healthy bloodlines to breed your dogs
Breed a healthy and quality kennel
Learn from other breeders and implement the good breeding strategies
Promote your business online and on social media
Find your puppies adequate families and sign dog contracts
Take good care of your puppies before selling them eventually
Let this list be a starting point in your dog breeding career.
How To Be A Corgi Breeder?
When speaking about breeding corgis, the most important thing is to learn the difference between the two corgi breeds – Pembroke Welsh Corgis and Cardigan Welsh Corgis.
Unlike other small breeds, corgis are an easy breed to work with. However, there are some health concerns involved when breeding corgis.
For example, corgis are prone to hip dysplasia, back problems, allergies, urinary stones, epilepsy, and other diseases. We don't want you to get the wrong idea here; they're generally a relatively healthy breed of dogs. 
But we hope you can understand why it is so important to look for a healthy and quality mate if you wish to start with a corgi breeding business. 
Therefore, it is crucial to learn as much about corgis, health problems they face, their personalities and temperament, and how to train them. 
Browse the internet, sign for courses, read the books, find a good mentor, consult with vets and other corgi breeders, as well.
Finding the proper mate for your bitch is a good start. Know your dog's flaws and try to balance them as much as possible.
The Science of Genetics
If you wish to become a successful corgi breeder, you will need to have a basic knowledge of genes.
Puppies' temperament, looks, and health will depend on genes that were passed by their parents and by their parents before them. 
When choosing an appropriate mate for the bitch, remember that looks are not all that matters. 
You need to understand how genes work; how they contributed to dogs' looks, temperament and how they are passed on and expressed. 
Not to mention how crucial it is to learn about genetic problems that affect corgis before indulging in corgi breeding. 
Get A Breeder Insurance
When entering the dog breeding business, it is important to get dog insurance with good coverage in case of illness or injury. 
The insurance will also cover you if your dog ever attacks another animal or human.
Then, after making sure all of the puppies from the batch are ready to go with their new families, consider making each puppy its own insurance. 
As for companies to go for, search the internet or ask around. There are a lot of good pet insurance companies that offer great coverage.
Do An On-Line Course
You may expand your knowledge about breeding or a particular breed by completing an online study course. 
The good thing is that there are a lot of free, quality courses about dog breeding.
For example, The American Kennel Club offers free courses about pedigree, genetic defects, breeding anatomy, and more. 
Even so, you may also find a lot of different fully accredited courses that cover the basics of dog breeding.
Know Your State's Laws
Each state has different dog breeding laws. You will definitely need to know what is required in your state.
There are two categories of breeders:
Commercial breeder (20 or more puppies per year)
Hobby breeder (One or two litters within a year)
Make sure to choose a category and meet the requirements needed. You will most likely need to register your kennel and get some sort of special license for breeding dogs.
The Problem With The Lack Of Knowledge
Nowadays, many breeders don't seem to pay attention to genes one corgi carries and don't consider other important matters such as a history of health problems or other flaws a dog might have.
Instead, they tend to exaggerate the corgi traits that people like. They don't seem to strive for a balanced and healthy working dog. 
Many of them are trying to emphasize the sausage look, change their coat color, and tend to shrink them in size.
Note that breeding dogs who have behavioral problems or genetic health issues isn't something a responsible breeder should do. 
Because of the general public's lack of knowledge, it is a concern that good and responsible breeders soon won't be able to sell their puppies. 
Learn How To Balance The Dog's Flaws
As we've already mentioned earlier, the responsible and intelligent breeder will breed to improve.
Put simply; it means that you need to be objective in evaluating your dog. Examine its flaws and look for a suitable mate that will balance them out, rather than exaggerate them.
After all, the point of breeding is to make a healthy, quality dog. 
And if you want to see how your dog ranks, consider attending a dog show. That way, you can get a more objective opinion and see how your pet measures against other of its breed.
Is Being A Corgi Breeder Expensive?
Being a dog breeder comes at a high price. However, not everybody runs their kennel the same way. People do it within their budget, and then they also sell their puppies accordingly. 
Know that requirements for dog housing can undoubtedly be a significant investment. 
Health tests, dog food, vet care, training supplies, annual license fees, fur and nail care, and other things cost a lot per just one litter. 
Let's look at the expenses table down below:
| Expenses | Price  |
| --- | --- |
| Breeding Dog | $3000-$15000 |
| Food (Per Year) | $1000 |
| Supplements | $200 |
| Vet Care | $400 |
| Health Testing | $1000-$2000 |
| Stud Fee | $2000-$6000 |
| Other Supplies (Whelping Bed, Towels, Blankets, Toys, Treats, etc.) | $1500 |
| Training Supplies (Crates and Boxes For Litters) | $600 |
| Equipment needed when the puppies arrive (health exam, vaccination, milk replacer, litter box, vitamins, food, heartworm and flea preventative, cleaning supplies, harness, leash, toys, etc.) | $2000-$3000 |
| Progesterone and Brucellosis testing, Ultrasound, X-ray, etc. | $1000 |
| AKC registration for the litter  | $25 + $2 per puppy |
Of course, do remember that these prices are only an estimate, not the exact price ranges. Nevertheless, you get the point.
Raising a litter (once you paid for the Sire a Dam) can cost up to $25,000, more or less. To conclude, yes, it is expensive to do a dog breeding business. 
And don't forget unexpected expenses like health treatments, C-sections (if needed), injuries, or supplements for the puppies.
But one thing is for sure – the more you invest in your dogs and puppies, the more quality and healthier they'd be. 
Learn More: How Much Is A Corgi Certificate?
How Much Should You Price Your Corgi Puppies?
Corgi Puppies are in high demand these days, and that's usually the reason behind the high price tag. 
Many corgi breeders charge their corgi puppies a couple of thousand dollars because of their high demand and popularity.
You should calculate the total cost for one litter and then divide that number by the number of puppies you have. That's how much one puppy should cost if you want to be able to cover all of your expenses and fees. 
In addition, don't forget that the price of the corgi puppy should depend on the pedigree of the puppy's parents and the amount of care you put into breeding.
Also, take your location into account.  
Obviously, you won't charge the same price for the corgi puppy if you live in a state with a high living cost and vice versa.
A corgi puppy's average price from a reputable breeder ranges from $700 up to $4000 (usually a show dog). 
We advise you to start with lower prices. 
Let's say, up to $1000 for a single corgi puppy. 
Then, as you gain more experience and knowledge, your prices will go up as well. 
Bear in mind everything we talked about earlier; the good breeder won't profit as much from dog breeding, and he or she will do the job to improve the breed as a whole.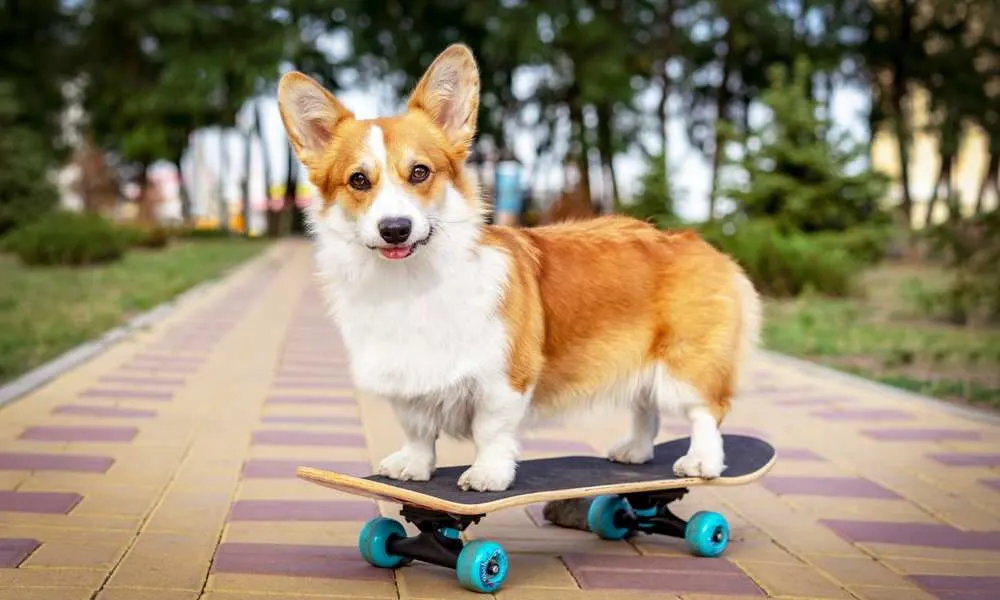 Is Being A Corgi Breeder Time – Consuming?
The short answer to this question is – yes, it definitely is. Dog breeding (no matter which dog breed) is very time-consuming, can be exhausting and stressful. 
In other words – it's a full-time job. Not to mention how unpredictable and heartbreaking it can be.
You will definitely lose many hours of sleep as soon as the puppies arrive. Monitoring their growth and nursing them takes a huge amount of time and patience.
Of course, there's still a lot of work to be done until they're born. 
You have to study your breed, find a suitable mate for your bitch, organize the mating, do a lot of health tests, visit the vet clinic regularly, and so on.
Being a dog breeder means you'll have to push your entire life aside while caring for the furry family members.
The Hardest Part
Most breeders will tell you that the hardest part of being a dog breeder is not raising the litter and taking care of the dogs – it's saying goodbye to your puppies. 
The same puppies that you nurtured and took care of since the day they were born.
As a dog breeder, you are essentially becoming a parent to them. So, each puppy will be like a child to you. 
People will come to see and choose the puppy of their liking. You will have to give your best to screen each person and ask questions to provide each puppy with a suitable home.
You will often wonder whether or not you should keep one or two corgi puppies for yourself. But that wouldn't be the right decision because at those times you're not thinking clearly. 
It's rather an emotional reaction than it is a rational decision.
After a few weeks, families will come to pick up their little corgi pups. It will be hard to overcome the fact that they're leaving your home because they began to grow on you.
Perhaps after you have your first litter, you will decide whether this job is right for you or not.
How Much Profit Can A Corgi Breeding Business Make?
The amount of money a dog breeder makes depends on the number of litters it breeds in a year and its puppies' quality.
Today, many people think that dog breeders make a fortune. 
Why is this belief so common?
Unfortunately, it's because many of them exploit their dogs to get more money. Many people run puppy mills in which dogs are literally used to produce litter after litter so that a breeder can make more profit. 
Even so, there are still a majority of responsible dog breeders with the best intentions at heart. Most of them do it because of the love for the dogs and passion for this job. 
But the sad truth is that responsible breeding is not a profitable business. 
People who do it ethically will barely have enough to cover all of the expenses needed. That's because those expenses (like vet visits, genetic testing, nursing, etc.) can easily exceed the amount of money a breeder brings in from the sale of puppies.
If you're new and just starting up with a dog breeding business, you shouldn't expect to have a profit in the first few years. It could take 5 to 10 years before you actually see a small profit.
Ethical breeding won't get you rich. But it will probably get you enough to sustain your hobby and a little extra if you're lucky enough.
The point we're trying to make here is that all your money and effort should go back into your dogs. The profit should be the last thing on your mind when entering this business.
Read More: Are Corgis Expensive To Maintain?
Final Word
There you have it – an in-depth, complete guide on becoming a corgi breeder and being good at it. 
As you can see, this job is not easy at all. It quickly becomes your entire life; you'll have to invest a lot of money and your time if you want to be a breeder. 
Still, if you're up for the task, then there's no harm in trying.
Lastly, we can all agree that there's no greater joy than finding newborn puppies a warm and caring family that they deserve. Because, in the end, that's all that really matters.