Dog books have been around for a long time, but their popularity hasn't always been the same, and the opinions of professionals have influenced this.
While some claim that dog books are very beneficial for the owners because he can turn to them whenever he needs to, others argue that this is a complete waste of time.
Nowadays, writing styles have changed, and old-school dog books don't have almost anything in common with the new ones.
Let's take books about corgis, for example – more and more corgi owners are searching online and ordering corgi manuals, but how effective are they actually?
If you are interested in the selection of books on corgi training and lifestyle, and you want to know a bit more about their ratings and reviews, continue reading this article, and we will list down the most popular choices.
Top 3 Dog Books
Over the years, many books on dogs have been written. No matter whether they were real-life stories or made-up, they have touched the hearts of dog owners all over the world and encouraged them to buy one of their own. 
Some of you may already have read some of these famous dog stories, but if you haven't – here are the top 3 dog stories that will warm your heart and make you want to go down to the pet store and get a cute little puppy – a corgi preferably.  
1. Dog Years – A Memoir
This book was written by Mark Doty. This is an emotional memoir about the life of Beau, a golden retriever he decides to adopt. Doty, who is suffering from AIDS and struggles to see the bright side, Beau becomes his life companion. But Beau is not the only pet – with another black retriever, Arden, he helps restore some faith in Mark's life – they bring him love, loyalty, and hope – all of which he desperately needs in his final days. 
This is a heart-warming classic which will undoubtedly leave the reader with strong emotions. Those who have read it claim that it changed their perspective towards pets forever. 
2. The Art Of Racing In The Rain 
You must have heard about this book at least once. It has reached such popularity that it has been turned into a movie in 2019. Garth Stein's novel is about an old pooch Ezo, whose owner is a famous race-car driver. The compelling story of Ezo and his owner Denny reflects on life and both of its beautiful and sad moments. 
Although the book is already popular the way it is, the movie is an entirely different experience – we recommend both. Your eyes will not be dry after reading/watching this masterpiece. 
3. A Dog's Purpose
W. Bruce Cameron says that "Everything happens for a reason", and the protagonist of this novel proves this point. A Dog's Purpose is a story about a dog Bailey, who lives multiple lives and throughout all of them – he learns multiple lessons on life, love, friendship, and family. Bailey finally discovers what his purpose in life actually was through ages and different personalities – but we won't tell you this.
This was made into a movie in 2017, and it reached top reviews at the speed of light. So, if you are an animal-lover, we strongly advise you not to miss out on this.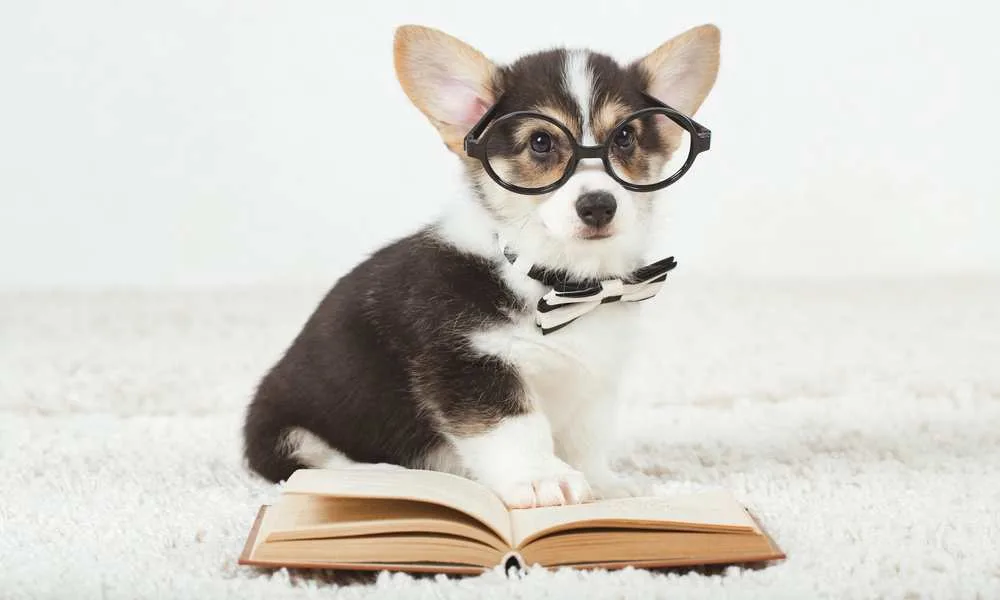 The Complete Corgi Guide 
If you are looking for a thorough book on a corgi breed, then the right choice for you would be "The Complete Guide To Corgis" by David Anderson. 
This book is perfect for all corgi lovers out there, and it is available in almost any bookstore. You can also order it on Amazon or Goodreads for a reasonable price. 
The Complete Guide To Corgis provides you with all the necessary information about the Pembroke and Cardigan Welsh corgi. This fluffy companion has become very popular in Britain, and not long after that, its popularity spread all the way to America. Much attention was paid to the way they look and how they act around people, and a book emerged soon. 
The aim of this guide is to help and educate new corgi owners on everything they need to know about their pet – health, appearance, behavior, training, etc. 
It is written to that it answers some of the most frequently asked questions such as: 
Is a corgi dog right for me?
What do I do after I bring my corgi home?
What is the best way to train my corgi?
What health issues do a corgi dog face?
How to avoid common mistakes in training my dog?
Don't worry. You will find all the answers with examples in well-divided chapters of this book. Of course, questions like this may be the center of attention for any owners, but why not educate yourself on some basic information and a brief history of this breed. Unlike some other breeds, corgis have a fascinating background. 
In The Complete Guide To Corgis, you will come across some interesting chapters like:
History of the corgi breed
Characteristic of a corgi dog
Corgi house-training
Corgi health care
The ideal corgi home
Basic commands for your corgi 
One of the benefits of this guide is that you can buy it as a regular hardcover or paperback book, or you can purchase an audiobook for free with your Audible trial. 
Why Do I Need A Corgi?
If you need some additional encouragement on why you need a corgi in your household, we have prepared a list of convincing reasons – you simply can't deny.
Corgis have huge personalities – they are very interesting to be around.
Corgis are also known as "dwarf dogs" – their rich history explains this.
Corgis are adorable as puppies – they look like little fluffy toys.
Corgis are loyal to their owner – this is one of their best features.
Corgis love to cuddle with you – they are very playful and love spending time with their owner. 
Corgis are born to be herd dogs – they will do a splendid job if you have a farm.
Corgis have a lot of energy – a corgi will gladly go on a hiking trip with you. 
Corgis are intelligent dogs – your corgi will have no problem in understanding everything you say. 
There are different types of corgi dogs – you can choose between the Cardigan, Pembroke Welsh, and Blue Merle corgi.
If this is not enough, did you know that the Queen of England and Stephen King are number one fans of this breed – what more persuasion could you possibly need?
Get yourself a corgi dog and guide right now!
Training By The Book
When you buy a dog, you have two options on how to take care of the training part – you either hire a professional to do it for you, or you do it yourself (with some additional help). 
If you want to take this responsibility into your own hands, then we recommend getting your hands on "The Pembroke Welsh Corgi Breed Expert Training book". 
This edition was published by Paul Allen Pearce Pembroke Welsh Corgi Publishing in 2014. This book includes all of the newest ways in which you should train your puppy or adult Pembroke Welsh corgi. It is very easy to follow, and all of the steps are clearly divided into separate chapters. 
Don't worry. We haven't forgotten about the Cardigan Welsh corgi. There is also a separate book that addresses the specifics of training this breed. 
"Cardigan Welsh Corgi Training Book For Dogs and Puppies" by Doug K Nain is all you need if you are looking for modern approaches to train your new corgi. This guide promotes the idea of Dogmanship – a way of learning to communicate with your corgi instantly. 
According to the author and some of the readers, this simple-step approach will give you positive results right away – which is precisely what you and your corgi need, right?
To give you a brief idea of what this Dogmanship is all about, here are a couple of main ideas from the book:
Clicker, treat training
Hand cues
Bad dog behavior
Basic commands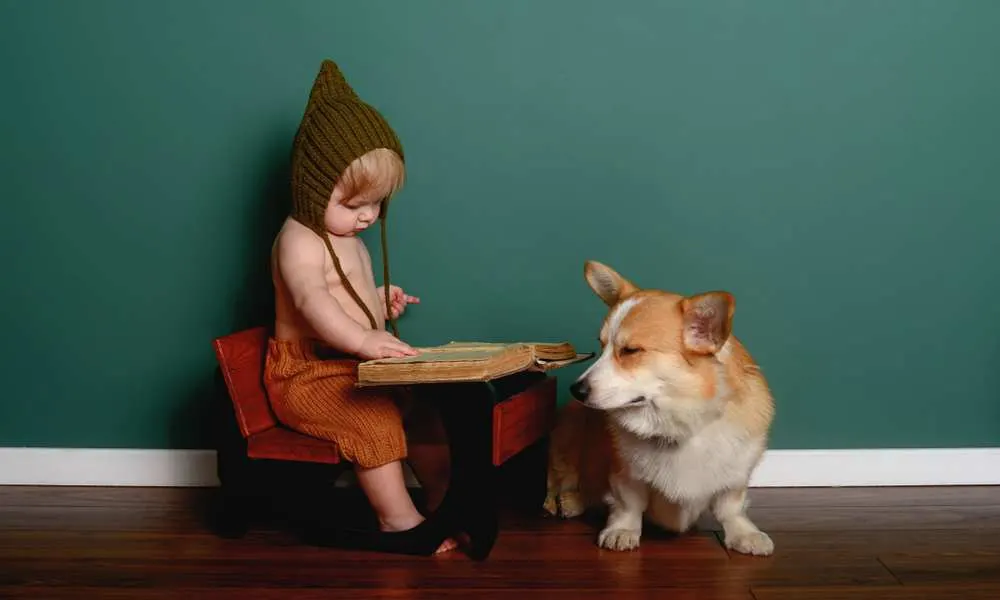 Books About Corgis For Children
If you are fond of your corgi and you have a child – you will absolutely love this list of books about corgis. They are interesting, adventurous, informative, and easy-to-read. Take a good look at the list of must-have books for your child and choose the one that you love the most!
"The Corgi Chronicles" by Laura Madsen is a magical fairytale about Pippin's corgi and his adventures in the kingdom. 
"Henry The Queen's Corgi" by Gorgie Crawley is a charming story about a corgi named Henry mistaken for a royal.
"Titus Rules!" by Dick King-Smith – this is an inspirational story about Titus – the Queen's most loyal protector. 
"Corgiville Fair" by Tasha Tudor – this is a witty story about a small town called Corgiville and its main event of the year – the Corgiville fair. 
"Corgi Coloring: Adventures with Scamp" by Katie Fiete – there is no better way for your kid to have fun than with a coloring book – get creative with 23 new sceneries. 
"Corgi Cove" by Dawn L. Noder – this is for those who enjoy the thrill of a good mystery book.
"Four Little Corgis" by B. Couban – this is a goofy and adorable story about four little corgis trying to find their way back home.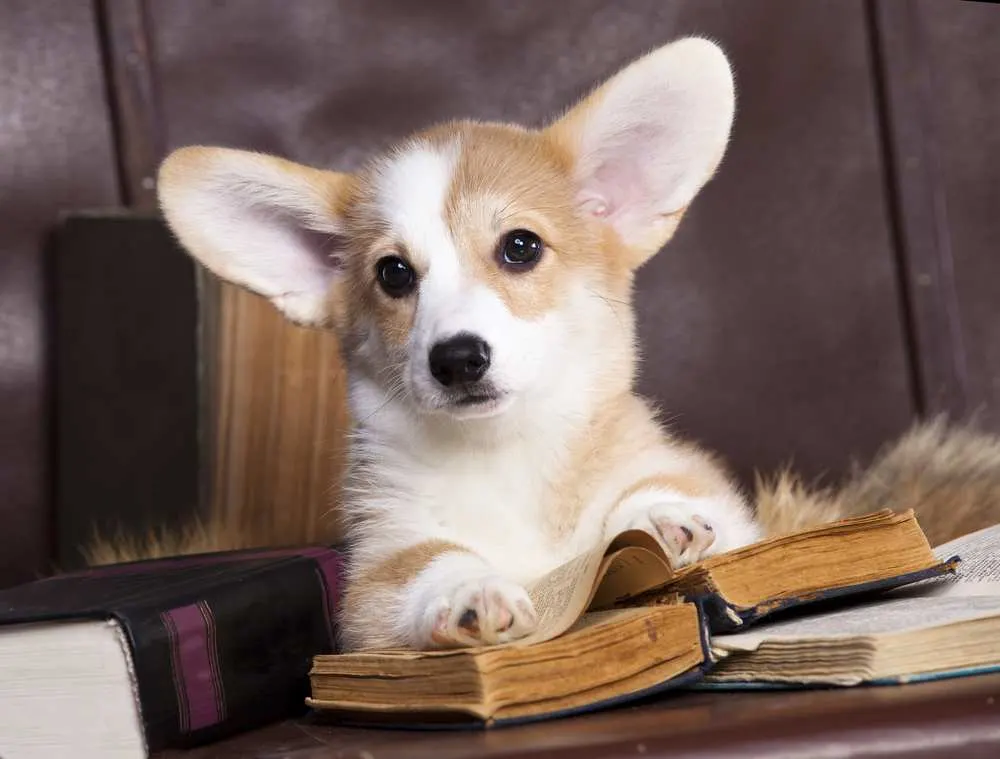 Health Manual
Unfortunately, not everyone will have a 100% healthy corgi by their side. As a breed, corgi dogs are prone to many health issues – cardiac, vertebral, optic, etc. For this reason, an owner should be familiar with some of the basics of corgi health care and how to overcome possible problems without going to the vet. 
"Corgis on Wheels, Understanding and Caring For The Special Needs Of Corgis With Degenerative Myelopathy or Disk Disease" by Bobbie Mayor should be on the shelf of every corgi owner. 
What is the purpose of this book?
This is a complete and detailed guide on adequately taking care of a disabled corgi – no matter what disease he is facing. This book is filled with all kinds of helpful information about the possible threats, symptoms, and treatments your corgi needs. 
What's most interesting about this edition is that it has instructions on how to make essentials for a corgi, such as:
Wheelchair skis
Ramps
Para-agility equipment
Lifts
If you are looking for effective ways to help your disabled corgi or just to be informed about all of the possible health issues, you should definitely get yourself this book.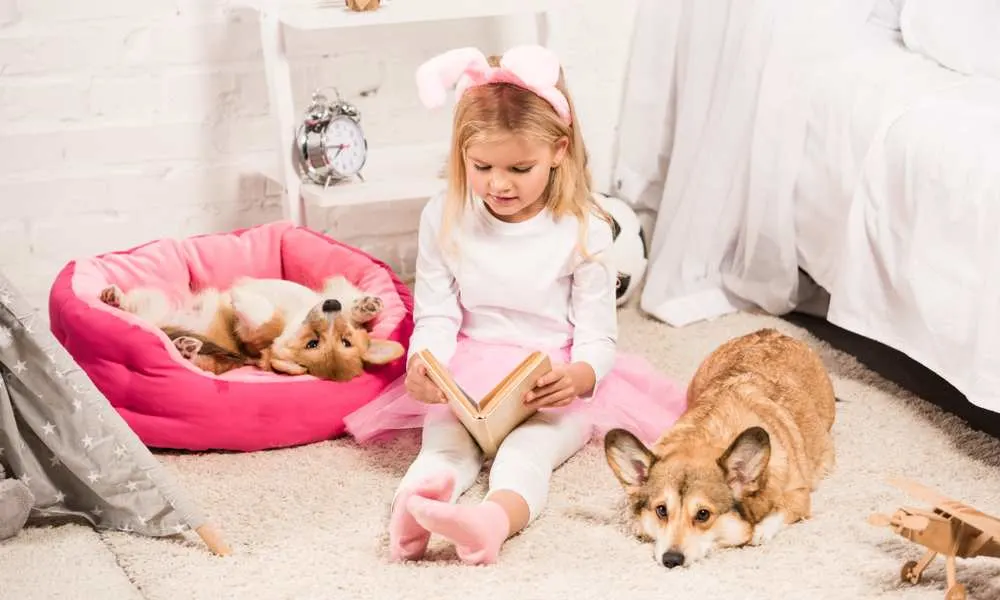 Reading To Your Dog
People go through stressful situations all the time, and they keep on finding new and effective ways to deal with them. Some of the most common symptoms that are connected to stress in everyday life are:
Depression
Headache
Insomnia
Stomach ache
High or low blood pressure
Weak immune system
If you have been feeling something from the abovementioned, it is high time you addressed this problem, and we found a new and fun way in which you can do it – by reading to your dog. 
You have probably already known that dogs can reduce stress just by being around you and cuddling. Another way of dealing with stressful feelings is by reading to them. You might be wondering – how does this help me?
Reading a book to your dog can help you cope with anxiety and stress simply because dogs, unlike many other pets, are trained and interactive with the owners. This will keep your mind off things that have been bothering you, and you will slowly start to feel better.
What about kids? They take most of the things that happen more seriously during the day than adults, and they need a way to deal with it before it becomes a problem. 
A lot of professionals recommend kids reading to their dogs for various reasons.
Children feel comfortable reading to their pets because they can read without feeling scared that they might make a grammatical error. 
When children read to their dogs, it can contribute to their self-esteem, which is very important during their growing up.
Children can feel calm and safe when reading to a dog because they provide a sense of protection to them.
Children can feel a sense of accomplishment after reading and finishing an entire book in front of their pet.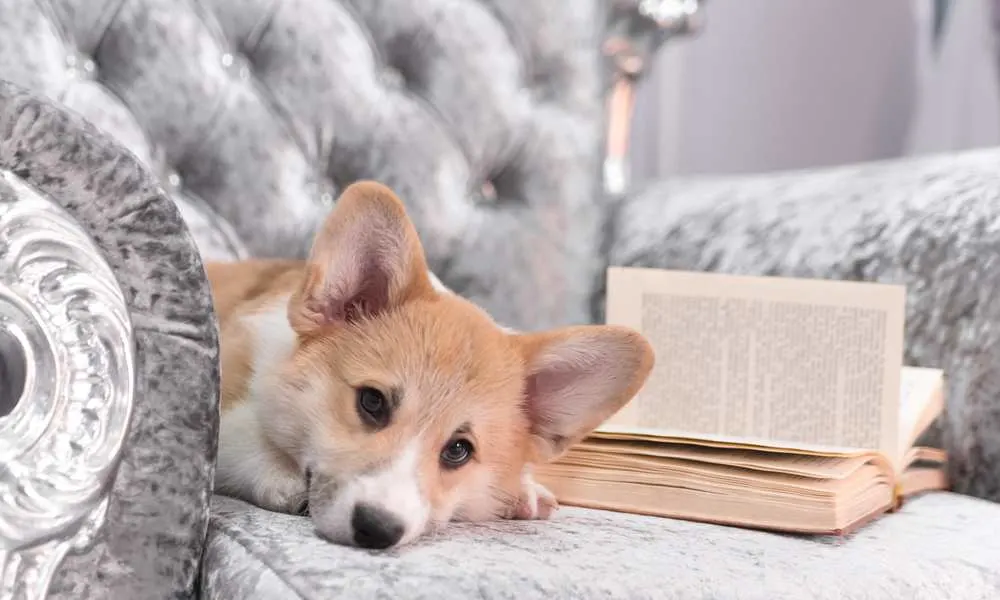 Why Buy Pet Books Online?
More and more people turn to buy everything they need online, and there are a couple of very good reasons that support this fact.
For example, let's take pet books – they are not the first thing you see on the bookshelf when you enter a book shop. However, nowadays, thanks to the internet, there are hundreds of pet books to choose from, and pet owners seem to like this idea very much.
Here are some of the main benefits of buying pet books online:
You are saving money on the transport you need to get there.
You have the possibility of home delivery.
You are provided with a broader choice of material according to your taste.
You can read reviews from people who have already read the book.
Online shopping has proven to be much cheaper.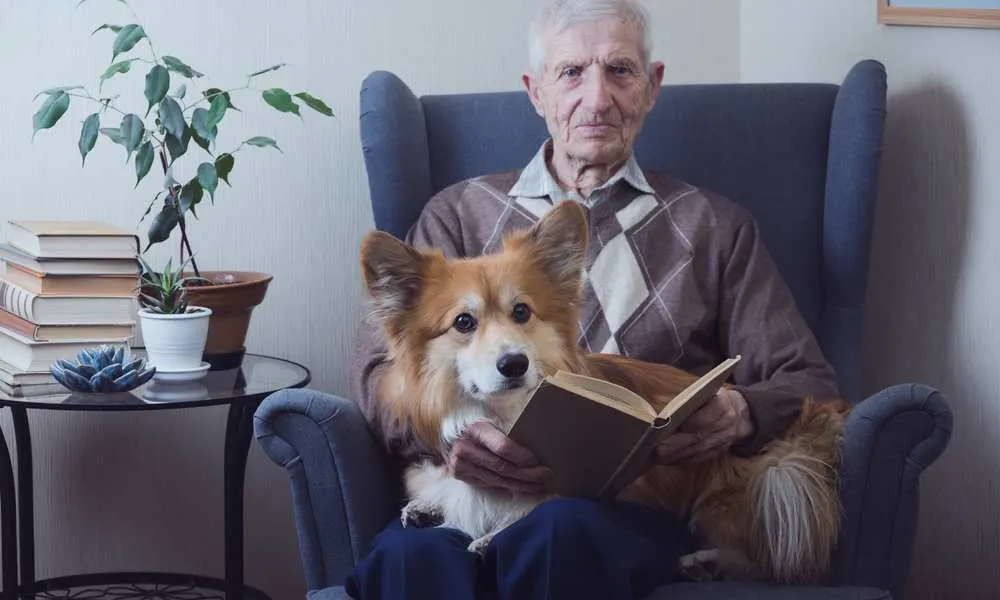 Conclusion 
Today, dog books have become a very popular theme, and we have seen dozens of new editions coming out and getting excellent reviews. It is proven that books on this topic are beneficial both for the dog and the owner.
When talking about corgis, these are dogs with a complex personality, rich history, and concerning health. There is no better way to get to know your corgi than by deciding to be a book on corgis. The themes vary, and they depend on your interests and needs. 
For example, there are some basic books for corgi owners like "The Complete Guide To Corgis" by David Anderson, which contains every vital piece of information about a corgi dog. Then, we have books that focus only on a particular breed – either the Cardigan or the Pembroke Welsh corgi for those who are more precise. 
As far as training goes, you can either hire a professional or buy a book on training. There are also special editions for Cardigan and Pembroke corgis, and in these books, you will find everything you need to know about teaching your basic corgi commands and some mistakes you should avoid making. 
There are also children's books, including corgis, and they have proven to be very successful with little kids. Some of the most popular choices are "The Corgi Chronicles", "Corgi Coloring: Adventures with Scamp", etc. 
A corgi's health is one of the most critical factors in his life. This is why you should have "Corgis on Wheels, Understanding and Caring For The Special Needs Of Corgis With Degenerative Myelopathy or Disk Disease" on your shelf at home – you never know when you will need it. 
You should try reading to your corgi when you feel stressed, and you will see that it helps. Also, go ahead and buy pet books online – they are cheaper, there is a broader choice, and you will save some money!