Dental care is also very important in dogs. It affects many things and can affect the health of your pet. Therefore, it is essential to watch what your dog consumes during the day.
Some owners claim after certain foods, their dogs get bad breath and that this can be noticed while they are near them when they play. This can become very uncomfortable after a while.
Have you ever wondered – why does my corgi have bad breath?
If you are interested in why your corgi has strong breath that is uncomfortable for you and the rest of the household, and if you want to find out ways you can solve this, keep reading this article, and answers will be guaranteed.
The Breed With Bad Breath
Have you ever wondered about your dog's breath? This is a characteristic they share with us humans, so the answer to the question – do corgis have bad breath? The answer is yes. 
This is something that is inevitable but manageable. We understand that this is not something you are willing to smell or feel when your dog comes to lick your face. The causes of this can vary from normal to something more serious. 
There is none – every dog breed is prone to this during their lifetime when it comes to the distinction between breeds. The only thing you can do is take your dog to the vet, determine the cause behind this, and if it turns out to be health-related – go and get some products for bad dog breath. 
Corgi Breath
Bad breath in corgis may not be pleasant, but it is common. There are numerous reasons for this to happen, from eating a particular type of food to indicators that something is wrong with their health. 
To be aware of all of the potential causes of bad breath in corgis, here is a list of them with brief explanations. 
| | |
| --- | --- |
| Oral hygiene: | Inefficient oral hygiene is one of the most common reasons for bad breath in dogs. This results in a problem called periodontal disease. This is something that can pose a problem for both humans and their pets. Plague and tartar can build-up over time, and it can damage both their teeth and breath. If it worsens, it can lead to infections, gums, and even tooth loss in some cases. |
| Dietary habits and nutrition: | It is not unusual that certain poor nutritional habits lead directly to bad breath. Consuming food with a strong taste has a large role in this. Some dogs continually search for food in garbage cans even though they are provided with good nourishment by their owner. In this case, you should train your dog to stay away from unpleasant locations with rotten food. You should also pay attention to what kind of dog food you are buying – some brands offer products that are too strong in taste and are not recommended for any breed. |
| Diabetes: | In some cases, bad breath in corgis is connected to something more serious – in this case, it is diabetes. If you notice that your dog has a sweet breath, you should take him to the vet. Also, pay attention if your dog has more frequent urination or drinks an excessive amount of water. This can be dangerous if you do not discover it in time. In some cases, it can even influence the immune system and allow bacteria to gather in the dog's mouth.  |
| Kidney disease: | The main reason behind kidney disease is when a dog eats its own excrement or drinks its own pee. If you notice that your dog is doing this more frequently, you should take him to the vet to get examined before this turns into something more serious. A dog who suffers from kidney disease will have a breath that smells like ammonia. |
| Liver disease: | Liver disease can be seen through a dog's frequent vomiting, lack of appetite, and bad breath. Also, if you notice yellow substances on your dog's gum – take him to the vet immediately. Liver disease is very dangerous, and it can even be life-threatening if you don't take care of it in time.  |
| Foreign substances: | Apart from food, there are a lot of other items that end up in your dog's mouth – and they are not healthy at all. It can be unknown food or a toy that he has found somewhere in the backyard. If those items are not disinfected, they can cause terrible breath. More importantly, they can cause serious health problems. For this reason, please pay attention to what your dog chews in his free time.  |
10 Proven Solutions To Improve Corgi's Breath
Bad dog breath can be very uncomfortable for people around, but luckily there is more than one way you can deal with this. 
Here are 10 ways in which you can improve your corgi's breath:
Brush your corgi's teeth correctly and regularly – your vet can recommend some teeth brushing products, which could be of great help. For the right choice, you should look for products that have been approved by some health organization. 
Give your corgi some rubber toys to chew on – There are certain rubber toys made from a special material that is there to help your dog's bad breath. In them, there is a toothpaste that dissolves while the dog plays with the toy. But, be careful – hygiene is essential with this.
Buy special treats for your corgi – Special dog treats are "dental chews," which should be given to your dog at certain intervals. VOHC approved are the best ones.
Giving your corgi some yogurt: Some professionals recommend adding yogurt to your dog's regular meal because the vitamins contained will get rid of the bacteria. Before you do this, you should make sure that you are using plain yogurt (without any flavors) and that your dog isn't lactose intolerant. 
Serve your corgi some fresh parsley – Including some chopped fresh parsley in your dog's meal is a natural remedy recommended by many people. 
You can put some water additives in your corgi's bowl – Recently, water additives have become very popular in preventing bad breath in dogs.
You can research dental sealants – If your corgi is dealing with both tooth decay and bad breath, then you should search for dental sealants – this is a thick coating that prevents cavities. Bear in mind that they can be a little costly, especially for a pet. 
Prepare some tea for your corgi – If you are certain that the bad breath is coming from stomach aches or some kind of infections, you should make your dog some tea. The best solution for this kind of problem is ginger tea. Serving your corgi some nice tea (not too hot) can help his bad breath, bacteria, or even some liver and kidney problems.
You can (and should) always go to the vet – If you are not sure what the cause behind your corgi's bad breath is and are scared that you might do the wrong thing – go to the vet. The best thing you can do is get some advice from someone who specializes in this field. 
Give your corgi some rawhide – This another natural, but not so popular, solution for dealing with bad dog breath. Some people claim that rawhide bones helped, but you should take them as soon as they soften up.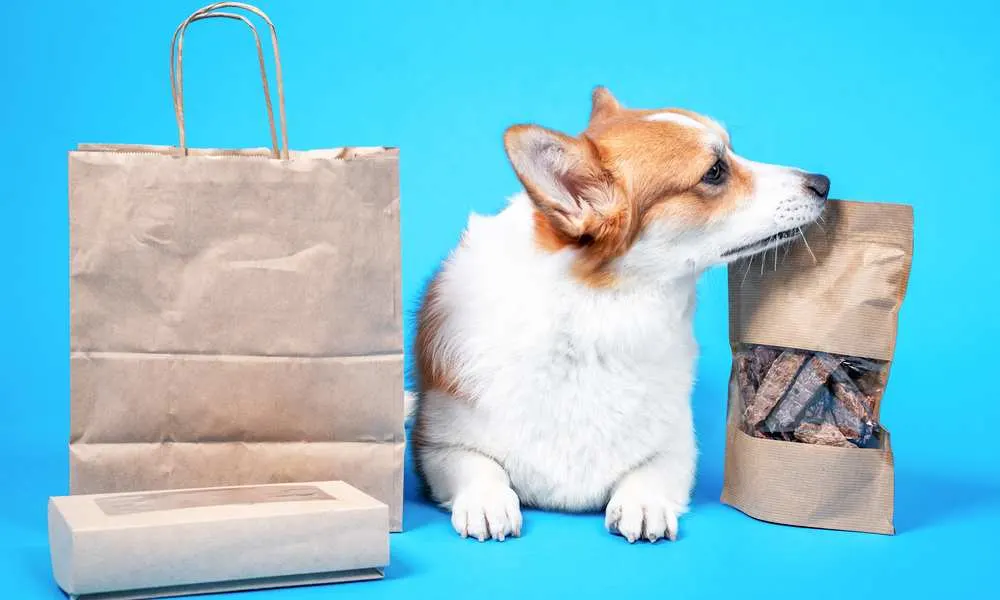 Buy These Products
If you took this issue seriously, then you should take a look at some of the products that play a big role in improving the breath of your corgi. You can find these products in almost every well-known pet shop in your area, or you can order them online. 
Here are the top 4 recommendations:
| | |
| --- | --- |
| Dog Toothpaste And Toothbrush Set: | This pet-safe material is essential for the hygiene of your corgi. This toothbrush has a bristle made especially for dog teeth.  |
| Dog Dental Sticks: | Dental sticks are beneficial for your dog's overall health because they remove the "harmful content" from the mouth.  |
| Dog Chew Stick Toothbrush: | This a newly designed product which will provide great results within a short period of time – and you don't have to do anything. |
| Petrodex Enzymatic Toothpaste For Dogs: | This non-foaming toothpaste formula is becoming more popular with dog owners, and it is affordable.  |
Beware of Halitosis
Halitosis is a dental disease in dogs that can lead to some severe health problems if not treated in time. Your dog should go to regular check-ups to the vet to make sure that his teeth are safe.
Some of the most common causes of halitosis are: 
Bacteria or plaque
Tartar
Decomposing food
Excessive internal bleeding
An oral tumor (dead tissues)
Halitosis is basically an upgraded periodontal disease. In a matter of days, the substances such as bacteria or decomposing food become a part of the dog's teeth and cause inflammation. This leads straight to the dog having bad breath and difficulty eating. 
Corgis, which are known as small-sized breeds, are more prone to this disease than big dogs because their teeth are more joint together and therefore in bigger danger of bacteria piling up. 
Whether your corgi is dealing with halitosis or not can be determined by doing an X-ray. Only then will the degree of seriousness be completely clear to both the owner and the vet. 
You can treat halitosis by getting your dog's teeth cleaned thoroughly with the help of some additional products.
Halitosis can be prevented by giving your dog meals containing ions and zinc, which are essential vitamins when dental health is concerned. Also, brushing your dog's teeth twice a week is recommended.
Read Also: When Do Corgis Lose Their Baby Teeth?
Other Possible Dangers
If dental problems were the only thing that troubles this breed, it would be great. Unfortunately, corgis are not known for being the healthiest breed out there, and the list of possible health issues goes on.
Here is a list of the most common health problems a corgi might deal with throughout its lifetime to keep you informed about your corgi's health.
Infection Alert
Corgis are a susceptible breed, and therefore they are exposed to various infections (viral and bacterial). This problem can be solved by vaccination or with the help of medication.
Obese Corgis
The corgi breed loves to eat, and they eat a lot – sometimes even more than they should. Although many people claim that there is nothing cuter than a chubby corgi, you shouldn't practice this. An obese corgi is not a healthy corgi. They are small dogs, and with all that unnecessary weight, it will be difficult to walk. 
Problems With Parasites
There are a lot of insects that would like to get under your corgi's skin. Drinking unclean water or going into dirty places can lour parasites like worms and bugs under your corgi's coat. But this is not the only way of attracting them – they can come from a human individual. Avoid this by giving your corgi regular baths.
Heart Diseases
Corgis often suffer from various heart diseases like a heart attack or heart failure. There are numerous causes for these diseases, but the most common one is genetic-related, and that is why it is vital to take your corgi to the vet yearly.
Back Problems
Intervertebral disc disease (IVDD) affects more than 70% of corgis during their lifetime. The good thing is that this can be treated both surgically and non-surgically – but only if you discover it in time. If the corgi's condition worsens and you do nothing, it can be deadly. 
Learn More: Back Pain In Corgis – How To Prevent Back Problems?
Corgi's vision isn't their best feature. There are a lot of eye conditions that can occur and worsen your corgi's sight. They are not all extremely dangerous, and they progress slowly – but that is no excuse for you not to visit your vet and get it checked out. 
The Danger of Epilepsy
Corgis suffer from three types of seizures: reactive, primary, and secondary. These episodes will occur somewhere between 6 months and three years of your corgi's life. The more frequent they become, the worse. You will need to go to a doctor, and lifelong medication treatment is necessary.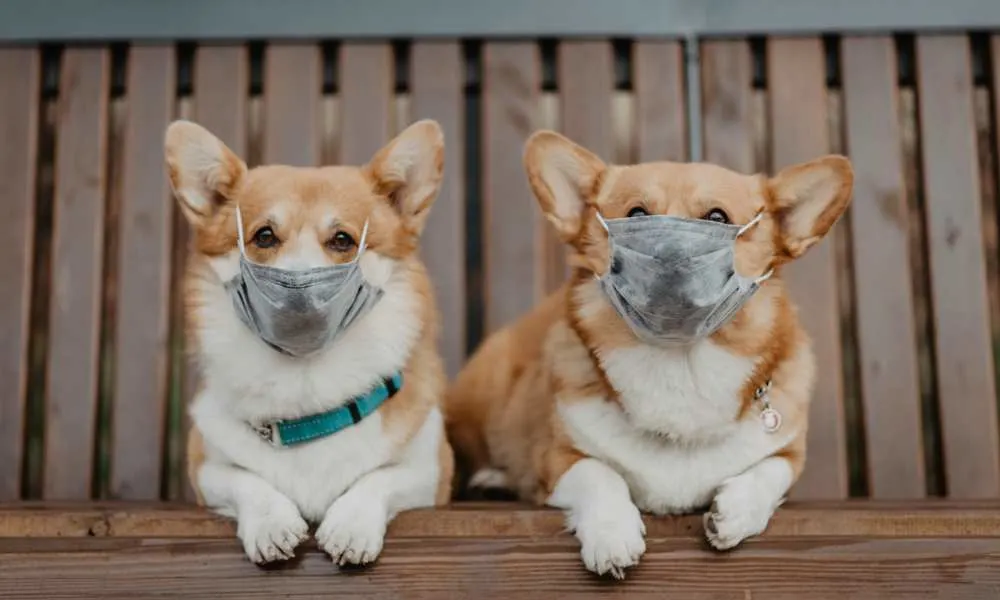 The Troubles Of Dog Odor
The unpleasant smell from your corgi's mouth is not the only thing that might bother you. You might notice that your corgi has had a specific odor recently and that you can't get rid of it even by giving him regular baths. What could this be?
What is causing my corgi to smell like this?
No dog smells like your favorite perfume, but the fact is that some dogs have a stronger smell than others. So, what causes my corgi to smell like fish sometimes?
Some of the most common causes for the unpleasant smell in corgis and any other breed include the following:
A dirty environment
Exercising all the time
Poor quality shampoo 
Unclean water
Poor grooming
There is no difference in the odor between the two breeds – the Pembroke and the Cardigan breed. They both have a double coat that sheds more than once throughout the year. You should be prepared for this – After all, corgis are considered high maintenance.
So, how to deal with this issue? Here are a few fresh ideas:
You should pay attention to where your corgi spends most of his time while playing. Don't let him stay in a dirty environment for a long time – he will pick up some infections.
Since your corgi likes to exercise much, he sweats a lot too. This is why you should bathe your corgi once or twice a month. For more information on how to bathe your corgi correctly, read this article.
You should also pay attention to the quality of the shampoo you are using – they have a thick coat, and they need that extra care. Try using some organic shampoos for a change.
Here are some of the best pet odor eliminators:
Rocco & Roxie Professional Strength Stain Odor Eliminator – you can use this for everything (furniture, floors, carpets)
Angry Odor Pet Orange Eliminator (for air)
Nature's Miracle Dog Stain and Odor Remover (for pets)
TropiClean Deodorizing Pet Spray
Earth Rated Dog Wipes
MisterMax Anti-Icky-Poo Odor Remover (for carpets)
Don't let your corgi drink unclean water in public places. Anytime you notice that he is headed for a puddle of water on the street, stop him. There could be hundreds of bacteria in there, and it will go straight to his organism.
Lastly, grooming is an essential factor in dog care. Since corgis have a thick coat and they shed a lot – you shouldn't skip a grooming session. 
Conclusion
Bad breath is a common characteristic with any dog, and it can be the result of both food and some severe disease. It's up to you to figure this out and help your dog get rid of this unpleasant smell. 
When it comes to the corgis – they are prone to this like any other dog breed. The reasons for this are numerous, and they can include poor oral hygiene, oral tumor, diabetes, kidney and liver disease, dietary habits, and even some foreign substances. 
Don't worry because this is something that can be managed by a couple of methods. The most effective are brushing your corgi's teeth regularly, giving him something to chew on (dental sticks), including parsley and yogurt in his daily meals, going to get dental sealants, etc. Nowadays, there are a lot of products in pet shops that can help you with this problem. People recommend buying dog toothpaste and toothbrush collections, dental dog sticks, or chewing brushes.
Halitosis is a dangerous dental disease caused by bacteria, internal bleeding, or any other harmful substance that might get stuck in your dog's teeth. It can be determined through an X-ray and treated with antibiotics and zinc in your dog's daily diet. 
Corgis are certainly not the healthiest breed, and the list of possible health threats can appear long. An average corgi can suffer from heart diseases, obesity, epilepsy, eye conditions, etc. 
Bad breath is not the only thing your corgi has to deal with – they might have body odor problems. The factors that influence this are being in a dirty environment or drinking unclean water. The most important thing is that you bathe and groom your corgi regularly.