Disasters happen, as many of us know from watching or reading the daily news. It can occur at anytime, anywhere. The best way to handle a disaster is to prepare for it. Preparing emergency kits, emergency routes, and places to meet during and after a disaster for all family members are important steps in preparing for a disaster. These plans should include your Corgi as well since they are a part of the family too. Therefore, you should remember these five animal disaster preparedness essentials:
Identify evacuation locations
Microchip your Corgi
Start a buddy system
Assemble a disaster kit
Take photos of you with your Corgi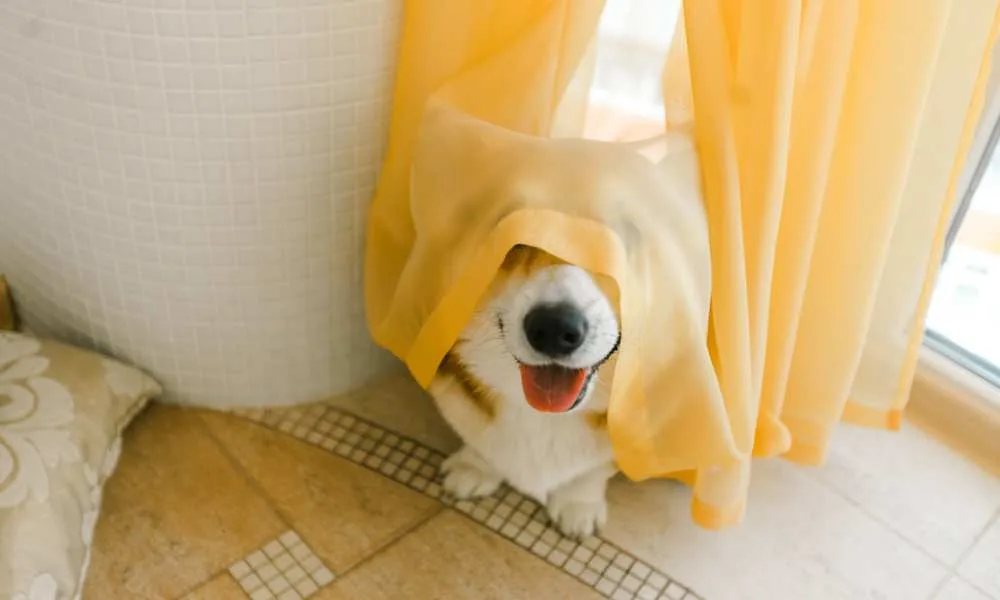 1. Identifying Evacuation Locations
Find places that would accommodate your Corgi if you evacuate. Often, pets are not allowed in Red Cross shelters so it is especially important for you to look for shelters or evacuation locations ahead of time to make sure your Corgi has a place to stay.
Consider pet-friendly hotels and motels, kennels, friends, and/or loved ones as you search for those places for your Corgi to stay. Ask about any restrictions on number of pets and pet size as well as whether "no pet" policies would be waived during an emergency. Make sure to write down these places and store them with your Corgi's disaster kit.
Take the time to train and practice loading your Corgi into their carriers and your vehicle so that your Corgi are comfortable and familiar with the routine. That way your Corgi won't panic or stress out as much if during a disaster he is forced to use a carrier to be transported to safety.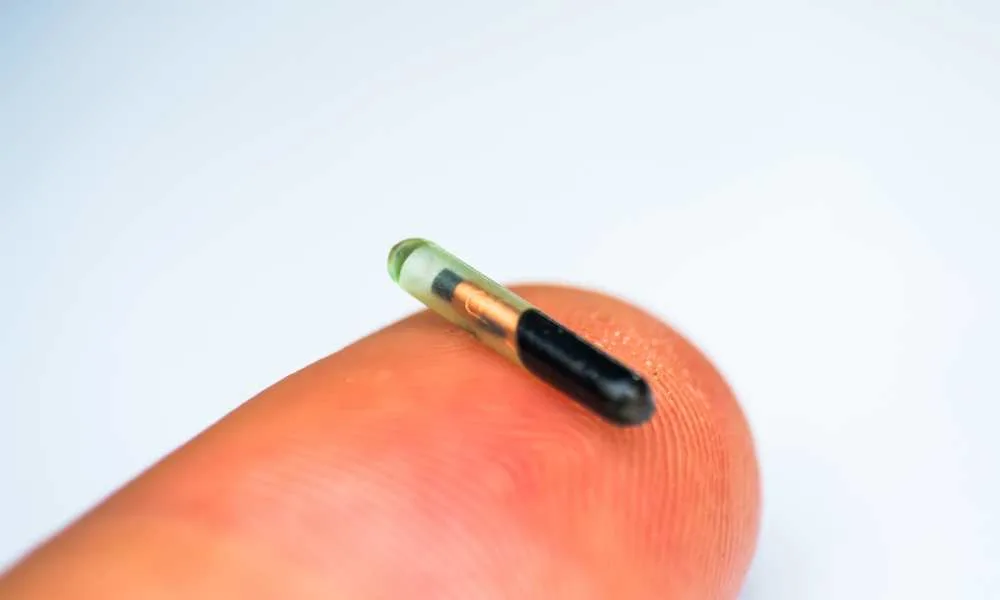 2. Microchipping your Corgi
Always microchip your Corgi. Microchips are the most effective way of reuniting lost Corgi with their families. Also make sure to update your microchip registration when you move, change phone numbers, or get a new emergency contact. In addition to microchipping your Corgi, make sure that your Corgi always wear an ID tag on his collar that is secure and legible. That way, if your Corgi gets lost, it becomes their ticket to getting home.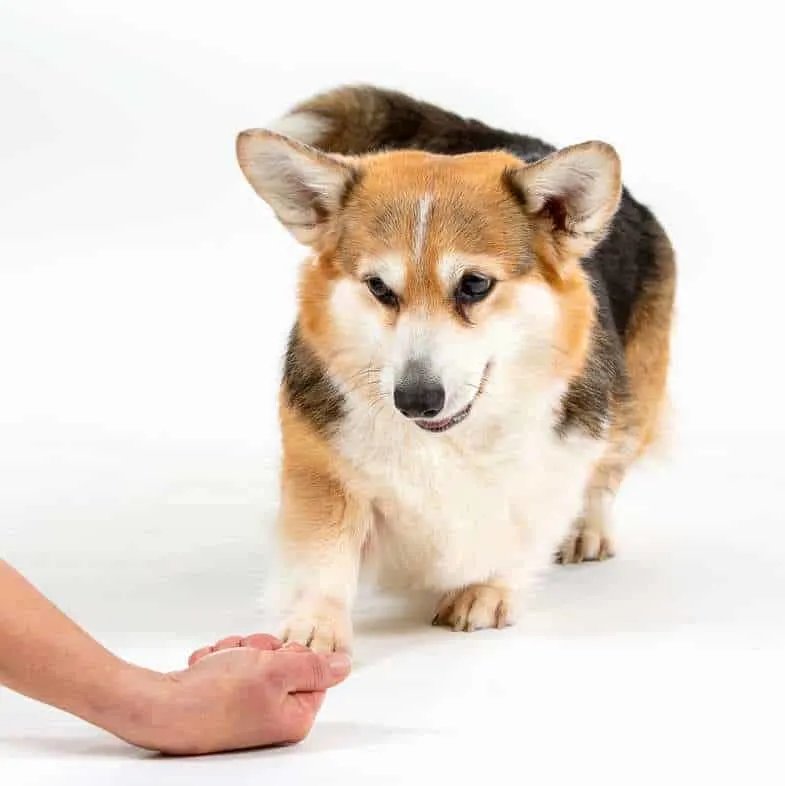 3. Starting a Buddy System
Start a buddy system with someone in your neighborhood by exchanging keys and disaster plans as well as giving your buddy your Corgi's pet information and your emergency contact information. Exchange information on veterinarians and make sure to have a permission slip put in your file at the vets that authorize your friend to getting necessary emergency treatment for your Corgi in case you are not available. Also make sure that your neighborhood buddy is comfortable handling your animals.
By setting up this buddy system, you can be sure that there will always be someone to either check on your Corgi or help evacuate your Corgi in case you are not home during a disaster. However, in order to make this buddy system work, make sure to agree to do the same for your neighborhood buddy's pets.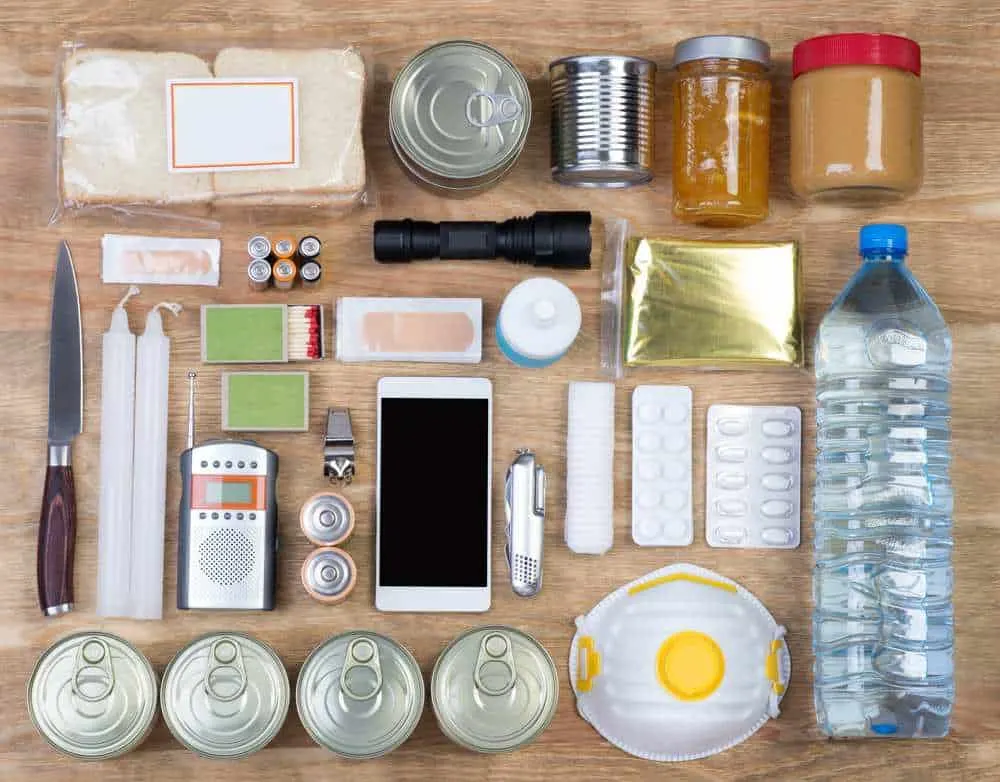 4. Assembling a Disaster Kit
While preparing disaster kits for your family, make sure to include a kit for your Corgi as well. Make sure that these kits are located near an exit so that they are easy to grab during an emergency. The items in this disaster kit for your Corgi should include:
Food:

A one-week supply in airtight, waterproof containers

Make sure to have at least one week's supply of dog food on hand at all times for your Corgi.

If using canned food, make sure to include a can opener and a spoon
Rotate the food every two months to avoid spoilage

Water:

A one-week supply in airtight, waterproof containers

Store drinking water in gallon-sized plastic containers
Make sure to have at least one week's supply of water on hand at all times for your Corgi

Avoid storing the water in direct sunlight
Rotate the water supply every two months to avoid spoilage

First Aid/Medication:

Basic animal first aid kit and book
At least a week supply of any prescription medication that your Corgi is on

Make sure to rotate them out of your emergency kit—otherwise they may go bad or become useless

Heartworm and flea/tick preventatives

Identification:

Recent photos of your Corgi that show any distinguishing features
Photos of you with your Corgi
Temporary "write-on" identification tag
Health and vaccination records of your Corgi

This is in case you must board your Corgi and need to have proof of your Corgi's vaccinations

Animal Care Supplies:

Collar and leash or harness
Crate or carrier

Make sure your Corgi is comfortable using the crate or carrier by training and practicing with your Corgi in using one

Collapsible food and water bowls

This way you can save space in your kit and still have something for your Corgi to eat and drink out of

Blanket, toys, and treats

Cleaning Supplies:

Paper towels
Dish soap
Plastic bags

Emergency Contact Numbers

List of contact numbers such as veterinarian, nearby shelters, and emergency pet hospitals
List of contact numbers such as friends and family members
List of numbers where you can be reached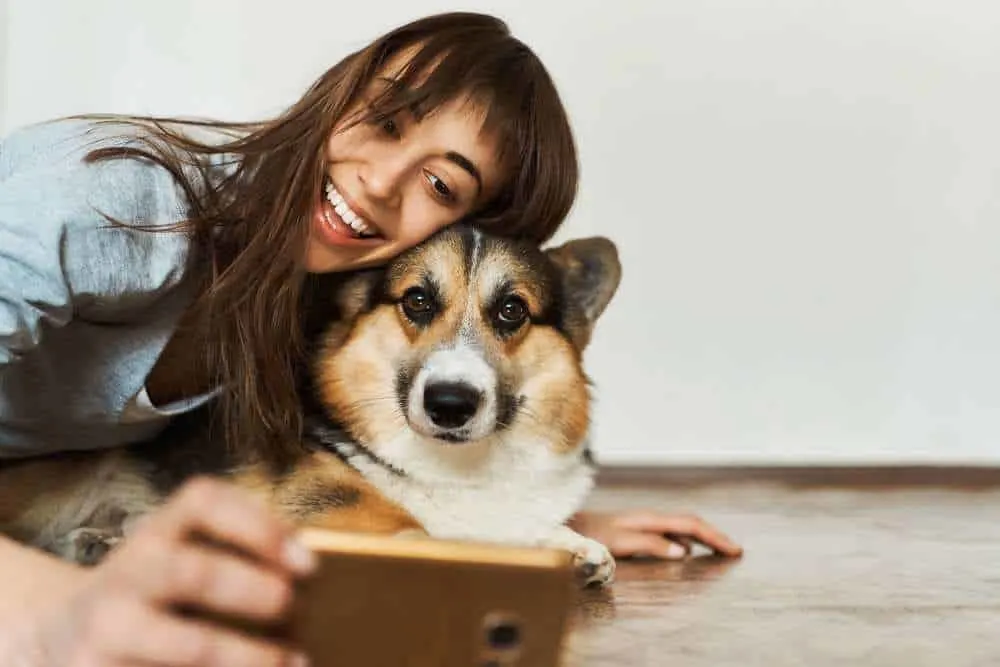 5. Take photos of you with your Corgi
If you are separated from your Corgi, photos are a great way to prove your ownership. Keep copies of the photos of you and your Corgi in your wallet and in your Corgi's disaster kit. Storing these photos on your cell phone can also be useful. Make sure to give copies of these photos to friends and family members who live outside of your area just in case your copies are lost or if something happens to you that makes you unable to prove your ownership.
Other Disaster Tips
In addition to the above five steps, the following are other pieces of advice to consider:
Get a Rescue Alert Sticker
These stickers can be ordered online from the American Society for the Prevention of Cruelty to Animals (ASPCA) website or from the United Animal Nations (UAN) website. It may also be found in your local pet store. This is an easy-to-use sticker that will let people know that there are pets inside your home. Make sure to place these stickers in a place that is visible to rescue workers.
Learn More: How To Rescue A Corgi? Are Corgis In Shelters?
The information on these stickers should include:
The types and number of pets in your household.
The name of your veterinarian.
Your veterinarian's phone number.
If you must evacuate with your Corgi, and if there is time, make sure to write "EVACUATED" across the stickers so that rescue workers know that everyone in the house is safe and that they can quickly move on to another home
Evacuation Preparation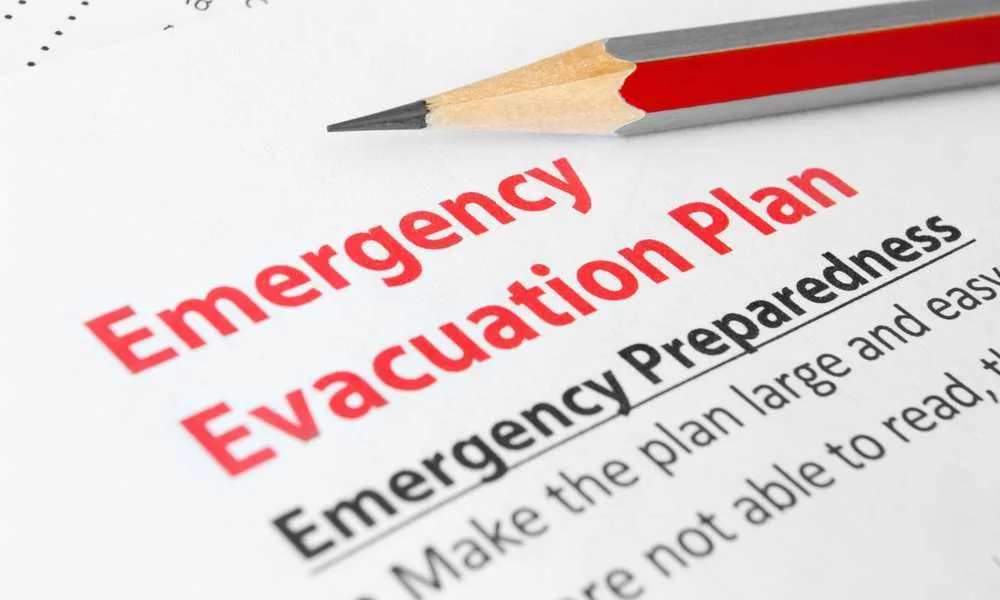 If you have to evacuate your home during a crisis, plan for the worst-case scenario. That means taking your Corgi along with you. Even if you think you may be gone for only a few hours or even a day, assume that you may not be allowed to return for several weeks. Animals that are left behind in a disaster tend to get easily hurt, lost, or even killed.
After recommendations for evacuation have been announced, make sure to follow the instructions of local and state officials. In order to minimize evacuation time and make the evacuation process less stressful, try following these simple steps:
Store all disaster kits and leashes near an exit
Make sure your Corgi is wearing a collar and that their tags have up-to-date identification. Your Corgi's ID tag should contain his or her name, telephone number, and any urgent medical needs. Be sure to also include your Corgi's name, your name and contact information on your Corgi's carrier.
Make sure that your Corgi has a microchip as a more permanent form of identification by having a microchip implanted in your Corgi's shoulder. Most animal shelters can read the microchip using a scanner.
Always bring your Corgi indoors at the first sign or warning of a storm or disaster. During a disaster, your Corgi could become disoriented or frightened and wander away from home. Never leave your Corgi tied or chained outside.
Consider your evacuation route. Make sure to call ahead and make arrangements for boarding your Corgi outside of the danger zone at the first sign of disaster.
It's better to leave early if you are evacuating and not wait for a mandatory evacuation order. An unnecessary trip is better than waiting too long to leave safely with your Corgi because if you wait to be evacuated by emergency officials, you may be told to leave your Corgi behind.
If you have to leave your Corgi behind, leave your Corgi in a room without any hazards (like windows) such as a bathroom, garage, or laundry room. Make sure to provide plenty of accessible food and water for your Corgi in that room. Leave a note or Rescue Alert Sticker outside the door and outside your home in a visible spot so that rescue workers know that your Corgi is there and needs to be rescued. Make sure the note or sticker includes the location of your Corgi, and that your dog is a Corgi, and your contact numbers as well as your veterinarian's number.
Geographic and Climatic Considerations
If you live in an area that is prone to certain natural disasters like tornadoes, earthquakes or floods, make sure you plan accordingly.
Know which rooms offer safe havens. These rooms should be clear of any hazards such as windows, flying debris, etc.
Choose easy-to-clean areas such as utility rooms, bathrooms, and basements as safe zones.
Having access to a supply of fresh water is important.

In areas that may lose electricity, fill up bathtubs and sinks ahead of time to ensure that you have access to water during a power outage or other crises.

In there is a flood, either go to the highest place in your home or a room that has access to counters or high shelves where your Corgi can take shelter.
If emergency officials recommend that you stay in your home, make sure to keep your Corgi indoors with you. That way if you do end up evacuating, you can leave with your Corgi quickly. Also during a disaster, your Corgi could become disoriented or frightened and wander away from home if left outdoors. Never ever leave your Corgi tied or chained outside during a disaster. Keep your disaster kits and supplies close at hand.
Make sure that each pet carrier has up to date identification and contact information and that your Corgi is wearing identification. Because your Corgi may become stressed during the in-house confinement, consider crating them for safety and comfort. Continue to feed your Corgi at their regular scheduled time and provide your Corgi with water at all times.